Manufacturer of Security Cameras since 1993
For more than 25 years, Self Storage Cameras has designed and manufactured thousands of security camera systems for Self Storage facilities.
Self Storage Cams design engineers are Self Storage specialists, and can custom design a complete PLUG and PLAY surveillance system for your facility.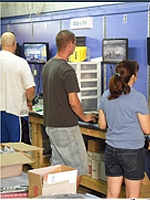 We back each security system with our exclusive Three Year Warranty and we provide in depth, step-by-step technical support at no charge for Life!!
We designed our High Definition IP Camera Equipment especially for the long distances at Self Storage sites.  
Here are just a few of the Features we have, that other Manufacturers do not have:
Easy Installation by anyone – Plug-N-Play

Every Camera is Waterproof Certified (IP67 Certification)

Every Camera is rated for Extreme Temperatures (-40 below and +150 above)

Long Runs over CAT5 or CAT6 (up to 820 feet)

Support for Ultra HD 4K Cameras

Smaller file sizes for HD Video (up to 95% more archives on your hard drives)

Plug-N-Play Wireless Transceivers support multiple cameras (up to 9800 feet distance)

3 Year Warranty

All Equipment is

UL LISTED
 Our equipment can run a huge public camera monitor of any size in your office – as well as your regular system monitor.  And you can choose the order of cameras – and which cameras you want your customers to see.  All this from the innovators at Self Storage Cams.

Call Jennifer, our Sales Manager
866-301-2288
Here is just a few of our
Self Storage Customers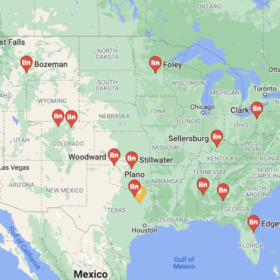 Wildwood Storage—————-Foley, MN
 K&M Storage———————-Woodward, OK.
 Premier Construction ———–Fortson, GA.
 A Better Storage Solution——-Post Falls, ID
 A Mini Self Storage—————Plano, TX
 A Treasure Storage————– Milton, FL
 Bridger View Storage————Bozeman, Mt
 A&D Storage———————-Norton, OH
 AAA Mini Storage—————-Bakersfield, CA
 ABC Self Storage—————–Loveland, CO
 All Seasons Self Storage——-Steamboat Springs, CO
 Alternative Storage————Oconomowoc, WI
Always Storage——————Guthrie, OK 73044
American Secure Storage——Grant Pass, OR
Cache Mini-Storage————-Lovelock, NV
Circle C Storage—————–Corona, CA
Clark Secure Storage———–Clark, PA
Cowboy Storage—————–Stillwater, OK
Devon Self Storage————–Emoryville, CA
Elon Self Storage—————–Elon, NC
Flur Mini Storage—————-Des Moines, IA
Hall Street Storage————-Brooklyn, NY
Indian River Self Storage——Edgewater, FL
Jerry's Mini Storage————Kemp, TX
Warhorse Storage————–Orrville, OH
King's G25 Self Storage——–Mohnton, PA
Lake Area Storage————–Keystone Heights, FL
Liberty Self Storage————Jamaica, NY
Lockup Storage—————–Sellersburg, IN Texas Secured Storages————–Del Rio, TX
Storage Depot of Ocala——-Ocala, FL
Red Wing Storage————–Red Wing, MN
Publix Self Storage————-Anchorage, AK
Pak Rat Mini Storage———-Camas, WA
Louisville Rd. Mini Storage—Bowling Green, KY
Southern Storage————–Northport, AL